Company news
AdmitJet Lanuches 2022 New Electric Jet Powered Surfboard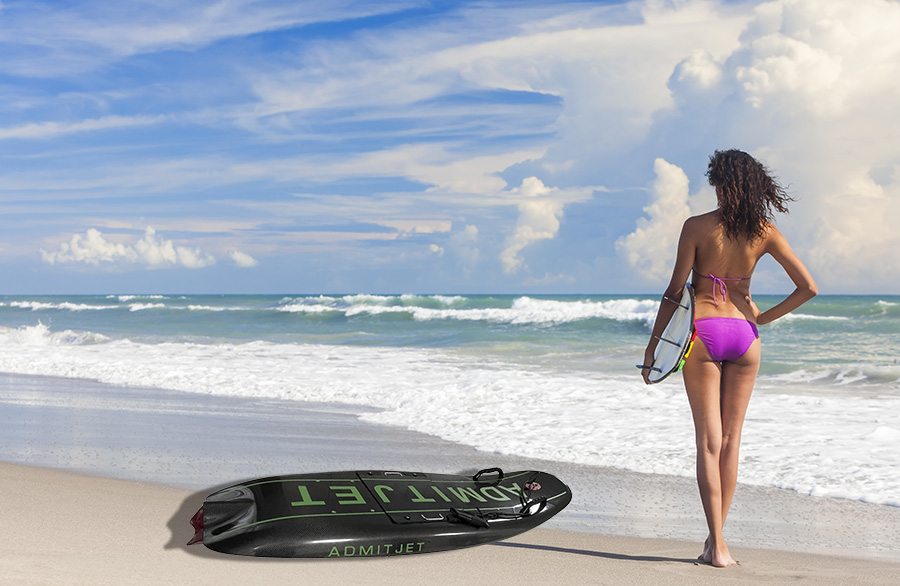 AdmitJet Launches the New 2022 Electric Jet Surf Board
Looking for an exciting water sport that combines surfing, jet skiing, and wakeboarding? If you're an adrenaline junkie, an electric surfboard might be the perfect fit for you!
First, what exactly is an electric surfboard?
An electric surfboard, or e-surfboard, propels riders across the water using an electric motor and battery. With no need for waves or wind, it offers high-speed thrills in calm waters such as lakes and rivers.
AdmitJet, a top manufacturer of water sports equipment, has introduced their own electric surfboard, promising a unique and thrilling ride. Let's explore its impressive features and specifications.
AdmitJet Electric Surf Board Overview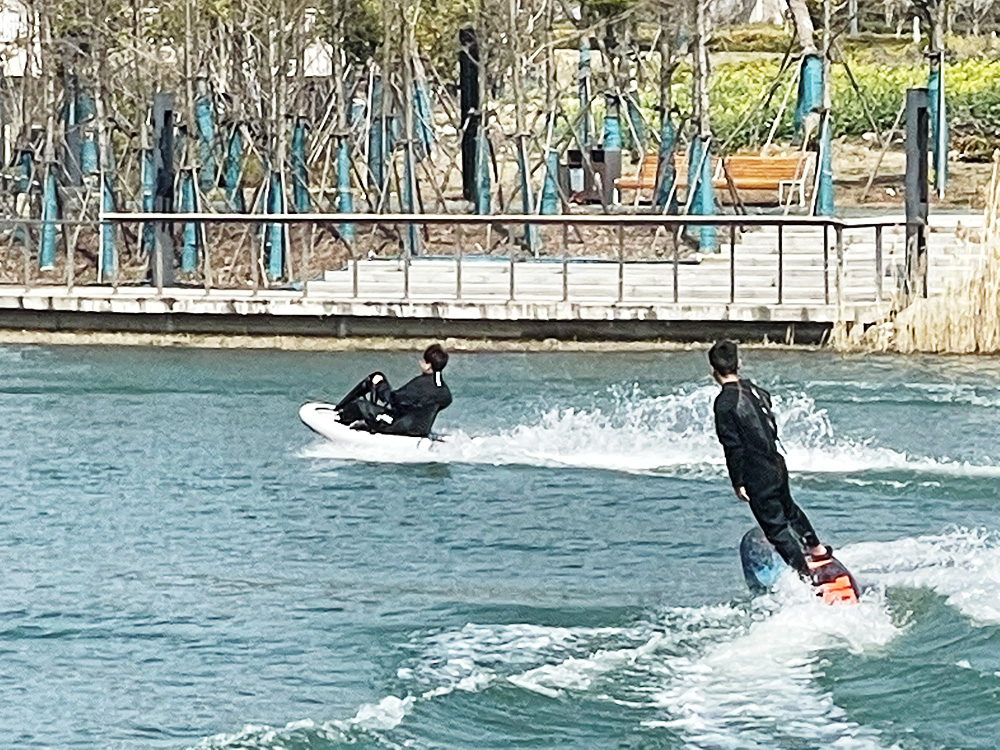 The AdmitJet electric surfboard is a high performance watercraft that is designed to give you an fun ride. It is made from a durable carbon fiber shell that can withstand the rigors of high-speed surfing.
The AdmitJet boasts a powerful 12KW motor, capable of propelling the rider at speeds of up to 55 km/h. It's even faster than motorized surfboards.
The Electric Jet Surfboard is impressively lightweight, with a weight of just 42 kg, including the motor and control system. Despite this, it has a maximum loading weight of 140 kg. So riders of various sizes can enjoy an exciting experience on the water.
Battery and Charging
The AdmitJet is powered by a high capacity CATL 72V/58Ah lithium battery. It can be easily removed and replaced using a fast removable plug-in system. The battery is rechargeable, and it has a lifespan of up to 1000 charges and discharges.
The charging time for the AdmitJet is between 3 to 3.5 hours. And the battery is capable of providing an average duration of 50 km for an 80kg rider.
An extra battery is with price at USD 1099. It is a great option for those who want to extend their riding time.
Waterproof Design and Custom Acceptable
The AdmitJet electric surfboard is highly waterproof, with an IP67 rating. It ensures protection against dust and immersion in water up to 1m deep for 30 minutes.
The AdmitJet electric jet powered surfboard is designed for speed and performance. It has a spread out motor cooling system. This system helps to keep the motor cool and ensures that it runs at optimal speed. The surface coating of the surfboard can be customized to your liking, giving you the ability to create a personalized look.
Price and Availability
Electric surfboards are a relatively new and exciting way to ride the waves. They offer riders a unique and thrilling experience, while also being environmentally friendly.
But if you're interested in buying an electric surfboard, you may be wondering:
How much will be an electric surfboard, What will an e powered jetboard cost ?
The price of an electric surfboard can vary depending on several factors, including the brand, size, materials, and features. Typically, electric surfboards can range anywhere from $2,000 to $15,000 or more.
Entry level electric surfboards, which are typically smaller in size. And they may not have as many advanced features, can be found for around $2,000 to $4,000. These may be a good choice for beginners or those on a budget.
Mid range electric surfboards, which may have more advanced features. Such as longer battery life and higher speeds, can cost between $4,000 and $8,000. Midlevel surfers or those looking for advanced features and capabilities may find these boards a better fit than entry-level options.
High end electric surfboards, which are typically larger, more powerful, and packed with advanced features. Such boards can cost upwards of $10,000 to $15,000 or more. These are often the choice of professional or expert surfers. As they want the very best in terms of speed, power, and control.
It's important to note that the cost of an electric surfboard is just one factor to consider when making a purchase. It's also important to consider factors such as the board's weight, battery life, charging time, durability, and ease of use.
The AdmitJet - an electric jet board that combines speed, durability, and style.
The AdmitJet is equipped with a 12 kW motor. It can reach a maximum speed of 55 km/h, suitable for riders weighing up to 80 kg.
It has a carbon fiber shell that makes it both lightweight and durable.
So, how much does AdmitJet electric jet surf board cost?
At less than $5000, it is a relatively affordable option compared to other electric surfboards on the market. The AdmitJet also comes with a 1-year warranty, with parts and service available for life. The AdmitJet jetboard is priced competitive and is an excellent value for the money.
The AdmitJet is currently available for purchase online, and it is being offered at an amazing price point.
And AdmitJet is looking for distributors in the USA, Canada, Australia, UK, NZ, Singapore, Spain, South Africa, and Thailand.
Conclusion
If you're seeking an electric surfboard that delivers a high performance ride, the AdmitJet is an excellent option. It gives an unparalleled surfing experience, and also budget-friendly. And accessible to anyone who wants to enjoy the thrill of electric surfing.
With powerful electrical motor, durable carbon fiber shell, and long battery life, make it an excellent investment for any watersport enthusiast.
The AdmitJet's sleek design and custom surface coating make it a head-turner, providing riders with an remarkable experience.