Boat Kart: AdmitJet Electric Jet Ski Aqua Go Kart For Sale
Boat Kart: AdmitJet Electric Jet Ski Aqua Go Kart For Sale
The All-New AdmitJet Aqua Go Kart: A Dynamic Fusion of Boat Kart and Jet Ski
Experience Unprecedented Fun Karting on Water
Get ready for the AdmitJet Aqua Go Kart. This boat kart is an exciting mix of a go-kart and jet ski.
If you're looking for an innovative, eco-friendly alternative to conventional jet karts, the AdmitJet Aqua Kart is a compelling option. As an electric-powered vessel, it sets itself apart from gas-powered counterparts like the Sea-Doo Spark Evo Jet Kart. This marks a shift toward sustainable technology.
The AdmitJet Aqua Go Kart's electric power system offers significant advantages. Traditional gas engines, such as the 60 HP or 90 HP Sea-Doo Spark Jet Kart, might deliver speeds of up to 42 mph and 48 mph. Or even 53 mph with a performance kit. However, these numbers come with the cost of noise, pollution, and frequent maintenance associated with combustion engines.
This is really a big change from the old-school combustion engines. We're talking about going green with a quieter, more efficient electric powertrain.
The electric motor of the AdmitJet Boat Kart gives great performance. It does so without the usual noise, exhaust, or fuel use of gas engines.
With the electric AdmitJet Boat Kart, users can enjoy an eco-friendly, yet thrilling ride on the water. This innovative water vessel is a powerful and agile ride. It offers the thrill of high speed on the water.
Aqua Go Kart: The Power Within
The AdmitJet Aqua Go Kart is a powerful go kart boat. It boasts a rated power of 15KW and a top speed of 32.5 mph. This remarkable velocity closely matches the speed of a traditional jet ski, promising a captivating go kart jet ski experience.
Endurance of the Jet Ski Go Kart
The AdmitJet Aqua Go Kart, an outstanding boat go kart, has an enduring peak power-on time of 70-80 minutes. Plus, the active water-cooling system means you can have more fun in the sun for longer.
The Boat Kart: Engineered for Durability and Performance
We make this boat kart from a tough mix of ABS, PC, and EPP. This gives it strength while keeping it lightweight. The Aqua Go Kart's hull weighs 45KG and the battery 23KG. It brings jet ski-like excitement to the boat kart world with style.
Smooth Sailing with AdmitJet Aqua Go Kart
The AdmitJet Aqua Go Kart supports high and low gear switching and reverse gear. This makes it as agile as a go kart on open water.
Got your Aqua Kart's propellers caught in water weeds? No worries. Just flip to reverse gear, and you'll be back in action.
Charging Made Easy
The Aqua Go Kart accommodates various charger specifications, with 220V/110V options available for European and American regions. Its ternary lithium battery charges within 3-4 hours, giving it an extended battery life of 800 charge-discharge cycles.
Safe and Stable AdmitJet Boat Kart
The Aqua Kart has a roll cage to maintain boat stability and a low center of gravity. This makes capsizing almost impossible. This top deck feature, borrowed from the American jet concept, brings an added layer of safety.
Unique Jet Kart Aesthetics
The Aqua Go Kart has a bucket seat and a stylish steering wheel available in three colors. All its details are stylish and comfortable. The cabin showcases an imitation wooden floor, while the exterior boasts a beautiful piano-baked paint finish.
Aqua Kart for Sale: The All-In-One Package
The AdmitJet Aqua Go Kart is a fantastic jet kart available for sale now. Transform your AdmitJet water go kart into an evo jet kart.
A Spark Evo Jet Kart Conversion Kit costs $8,490. However, the AdmitJet Aqua Go Kart is a cheaper and greener option at less than $5000. Honestly, this electric-powered boat kart is the way forward for water sports. It's all about being clean, efficient, and looking after the environment.
Enhanced Anti-Corrosion Sea Version: Superior Durability Meets Marine Excellence!
At Secutronic, we are always striving to improve our products and ensure they meet the specific needs of our diverse clientele. With our commitment to innovation and customer satisfaction in mind, we're thrilled to announce the launch of our newest "Sea Version."
Understanding the challenges of the marine environment – especially the corrosive nature of saltwater – we've meticulously designed this sea version to be highly resistant to corrosion. After extensive research and development, we've incorporated a special material that is not only more durable but also effectively resists the corrosive impacts of seawater, making it an ideal choice for marine applications.
Key Features of the Sea Version:
Anti-Corrosion Technology: Our proprietary coating and material selection ensure that the product remains unaffected by rust and other forms of corrosion.
Enhanced Durability: Built to withstand the harshest marine conditions, ensuring a longer product lifespan even with regular exposure to seawater.
Eco-friendly Materials: As part of our commitment to the environment, we've ensured that our materials are eco-friendly, causing minimal harm to marine life.
Our new sea version, designed with "anti-corrosion'" technology, is testament to our dedication in ensuring that our products don't just meet but exceed your expectations. Whether you're in marine construction, shipping, or any related industry, our sea version products are tailored to offer you reliability, durability, and peace of mind.
However, the sea version would be USD300 higher in price.
Conclusion
The AdmitJet Aqua Go Kart offers a unique water karting experience. It's perfect for go-kart fans and jet ski lovers alike. And it has a 12-month warranty and certifications from CE/FCC/ROHS/MSDS/UL38.3. You can be sure that fun and safety are at the forefront with the AdmitJet electric mini jet boat.
Get ready to experience the thrill of this Aqua Go Kart boat. It's not just a micro jet boat; it's a revolution in watersports.
Specifications:

Model: AdmitJet boat kart, Extended Endurance version
Rated Power: 15KW
Speed: 0-52KM/H
Peak Power-on Time: 70-80min
Shell Material: ABS+PC+EPP
Weight: Hull 45KG + Battery 23KG
Max Load: 130KG
Cooling Method: Active water-immersion cooling
Charger Specification: 220V/110V for configuration in European and American regions
Board Size: 1850860550 mm
Battery Material: Ternary Lithium Battery
Battery Life: 800 charge-discharge cycles
Battery Removal: 10 seconds to disassemble
Charging Time: about 3H-4H
Battery Voltage: 72V
Recharging Current: 72A
Battery Capacity: 5.1Kwh
Remarks: It supports switching between high and low gears and reverse
Warranty Policy: 12 months
Steering Wheel: Available in 3 color options
Certification: CE/ FCC/ ROHS/MSDS/UL38.3
Standard Accessories: Anti-collision airbag, Piano-baked paint, Life jacket, Imitation wood floor in the cabin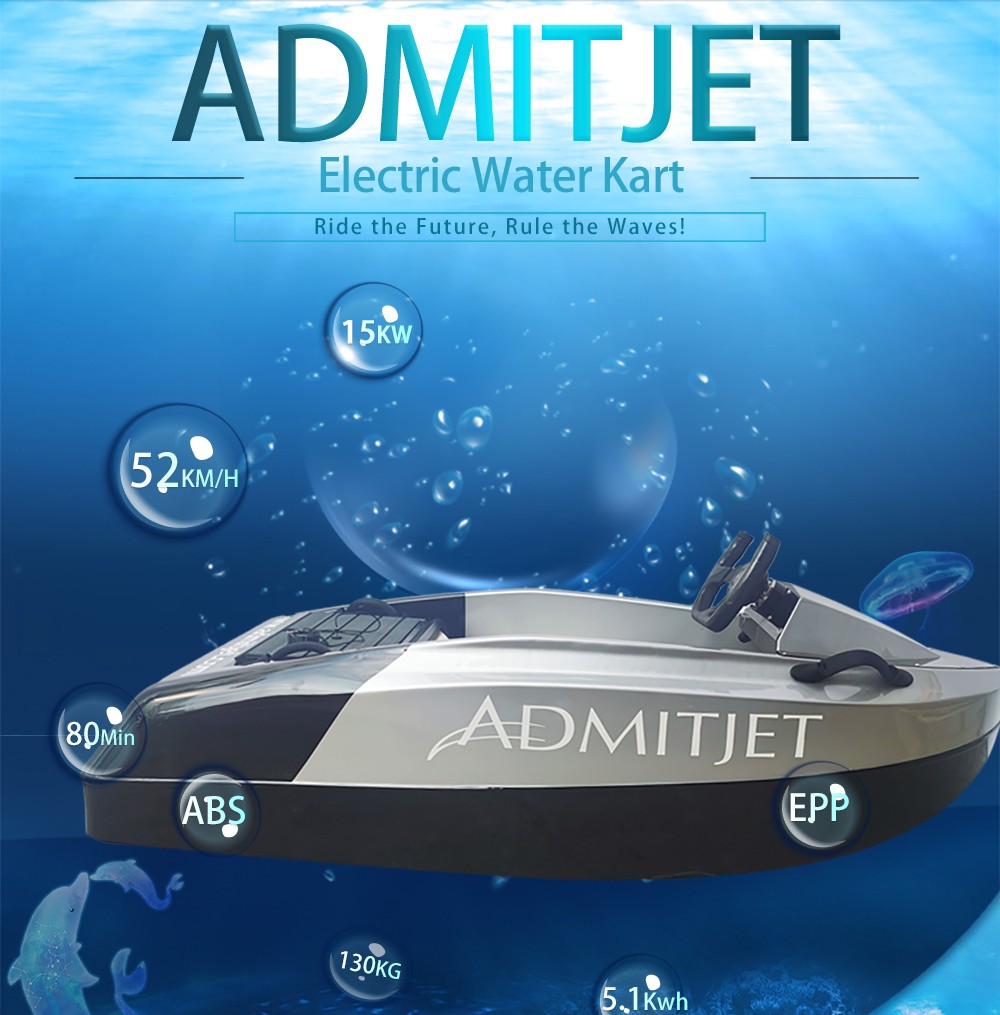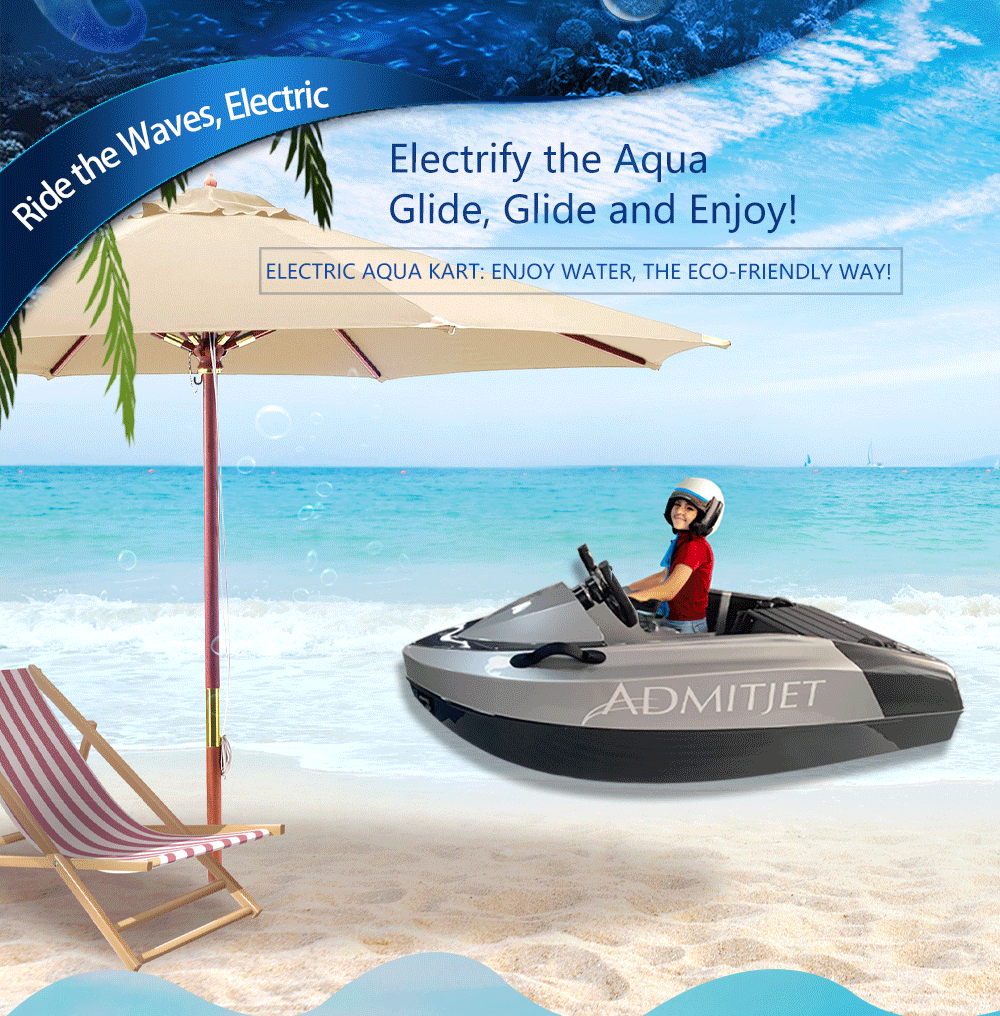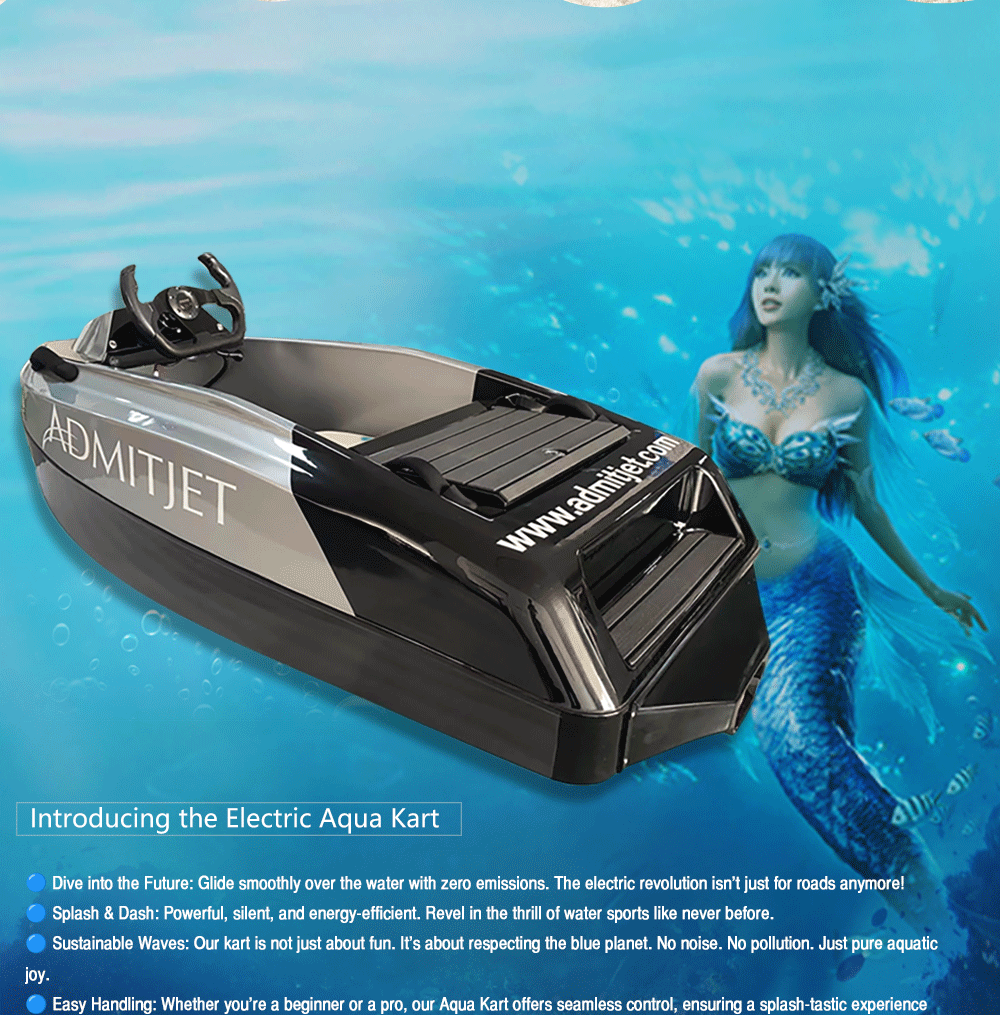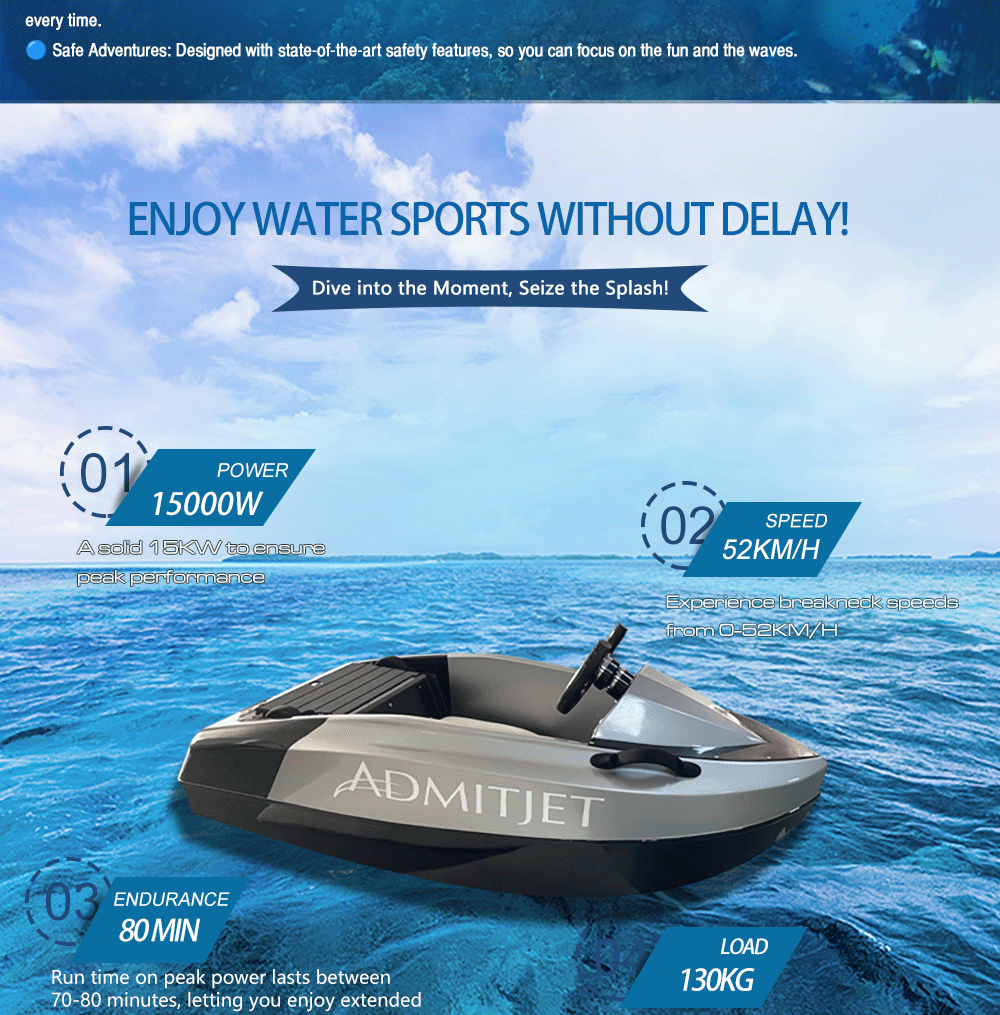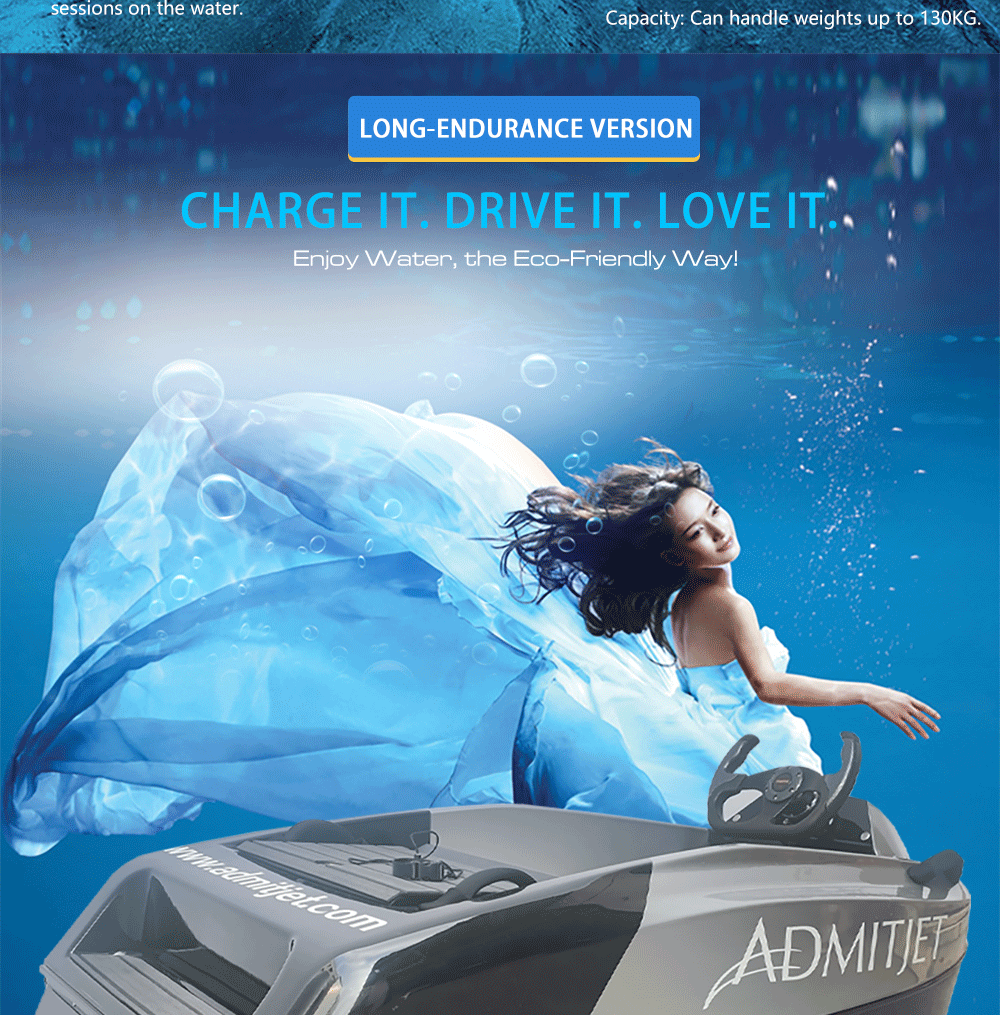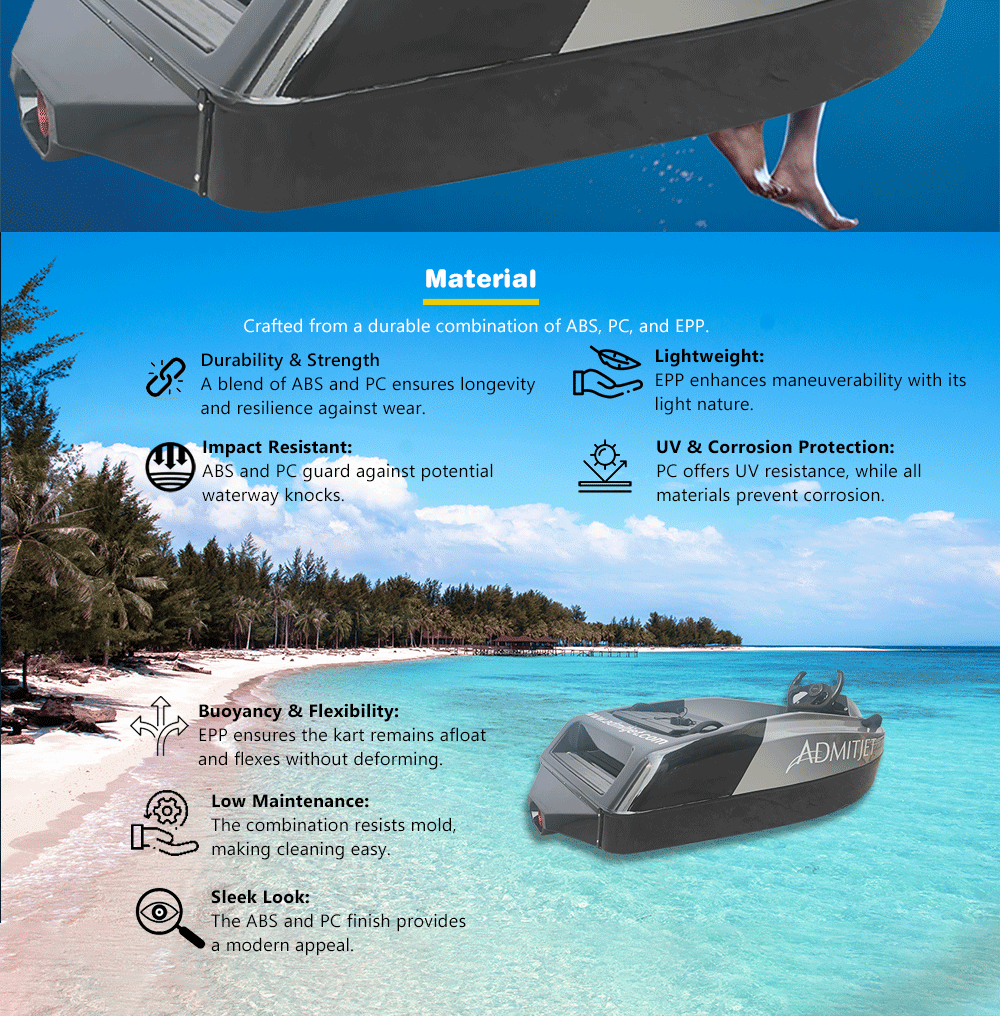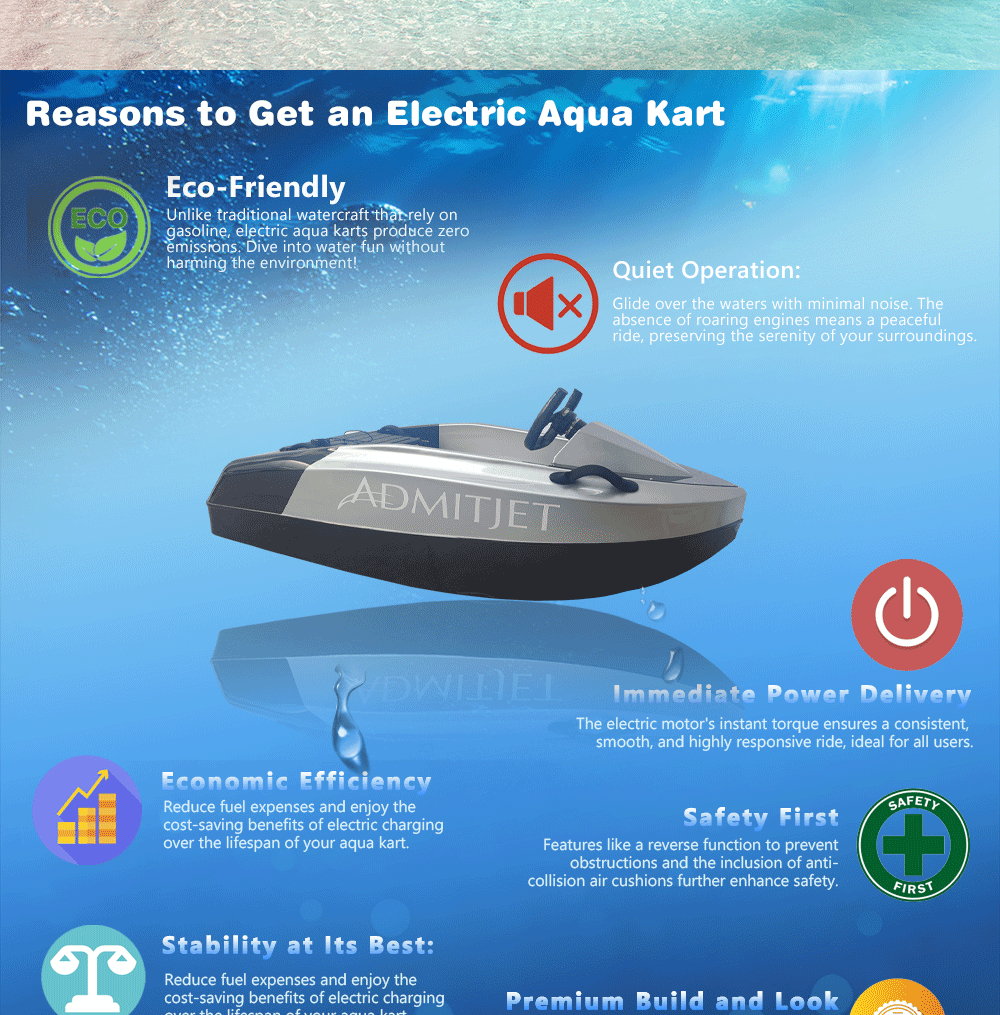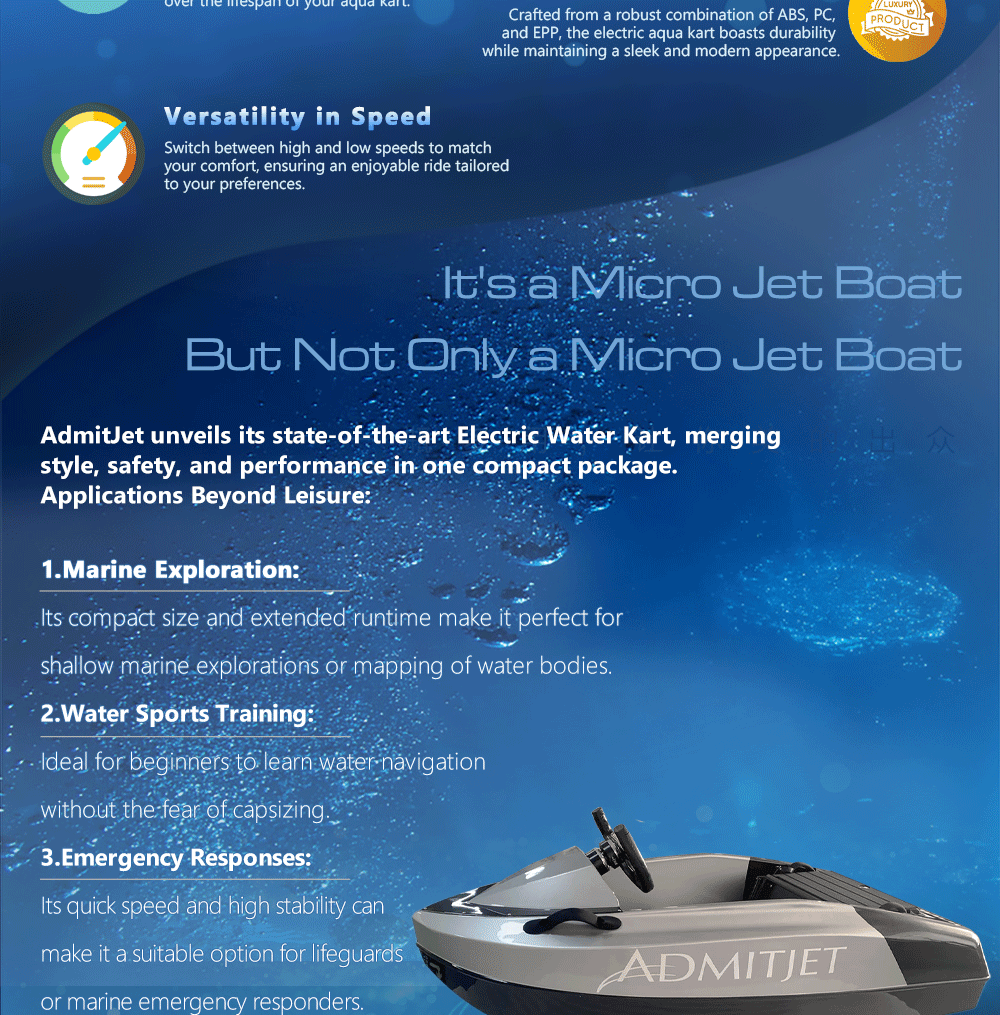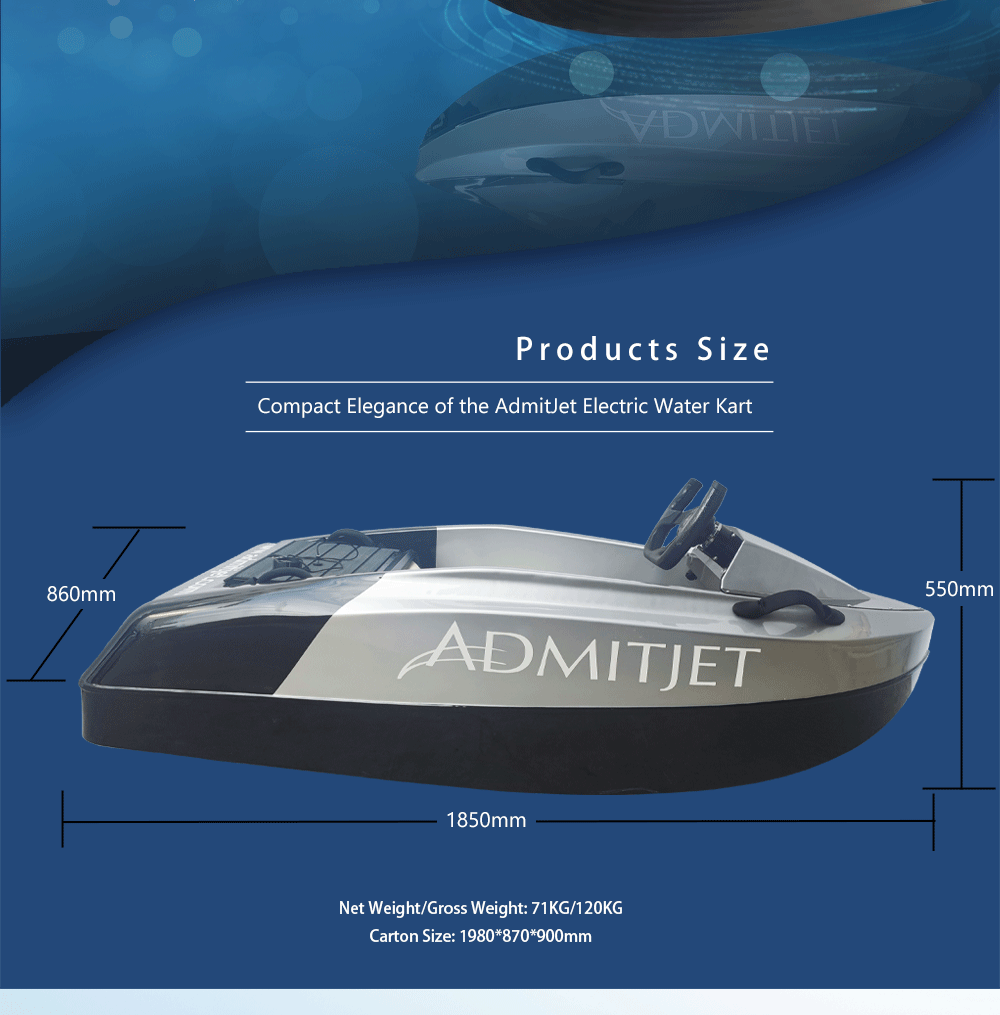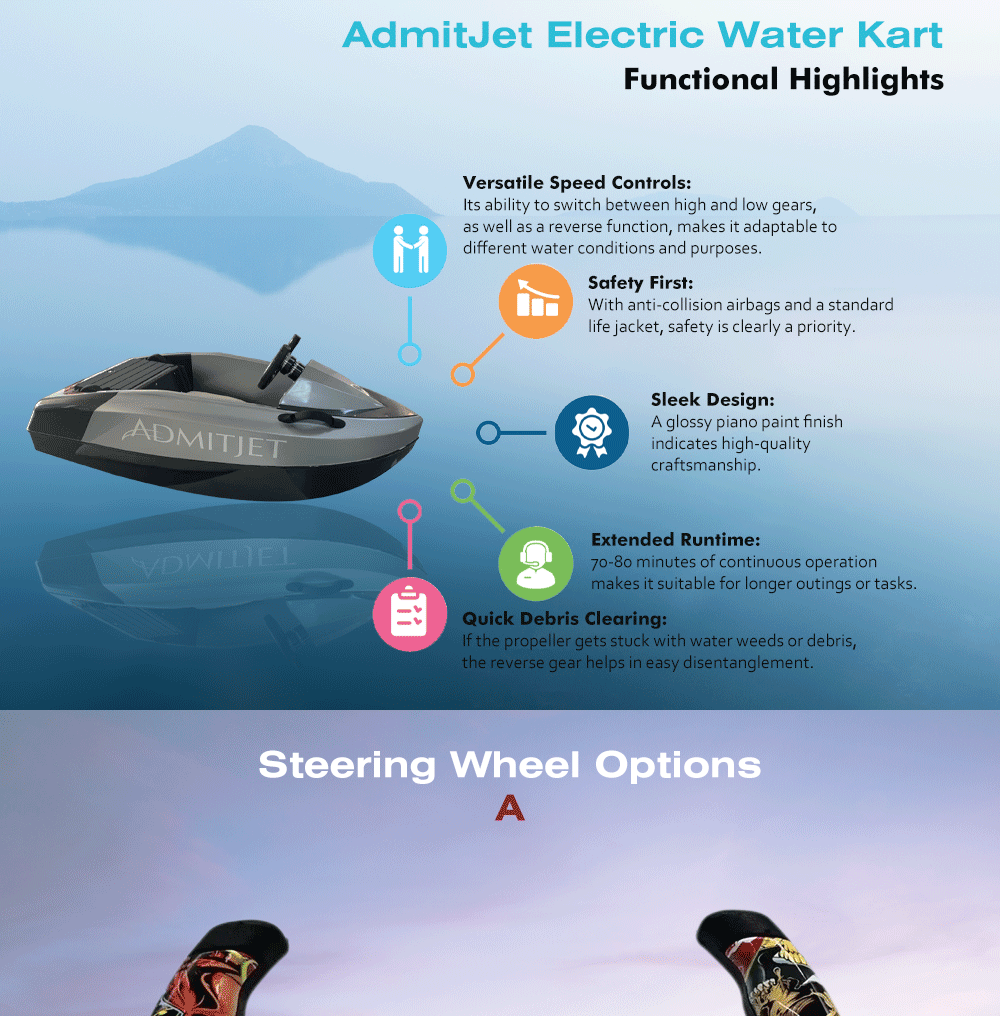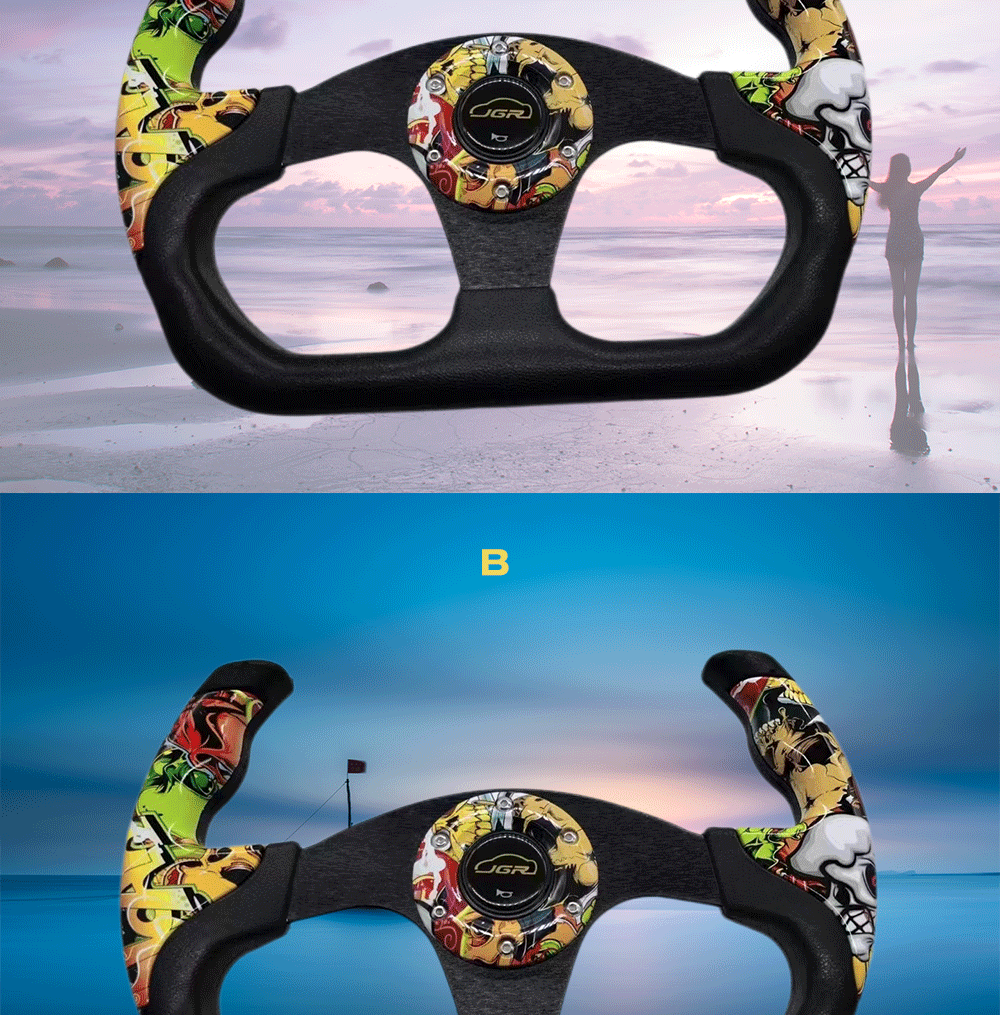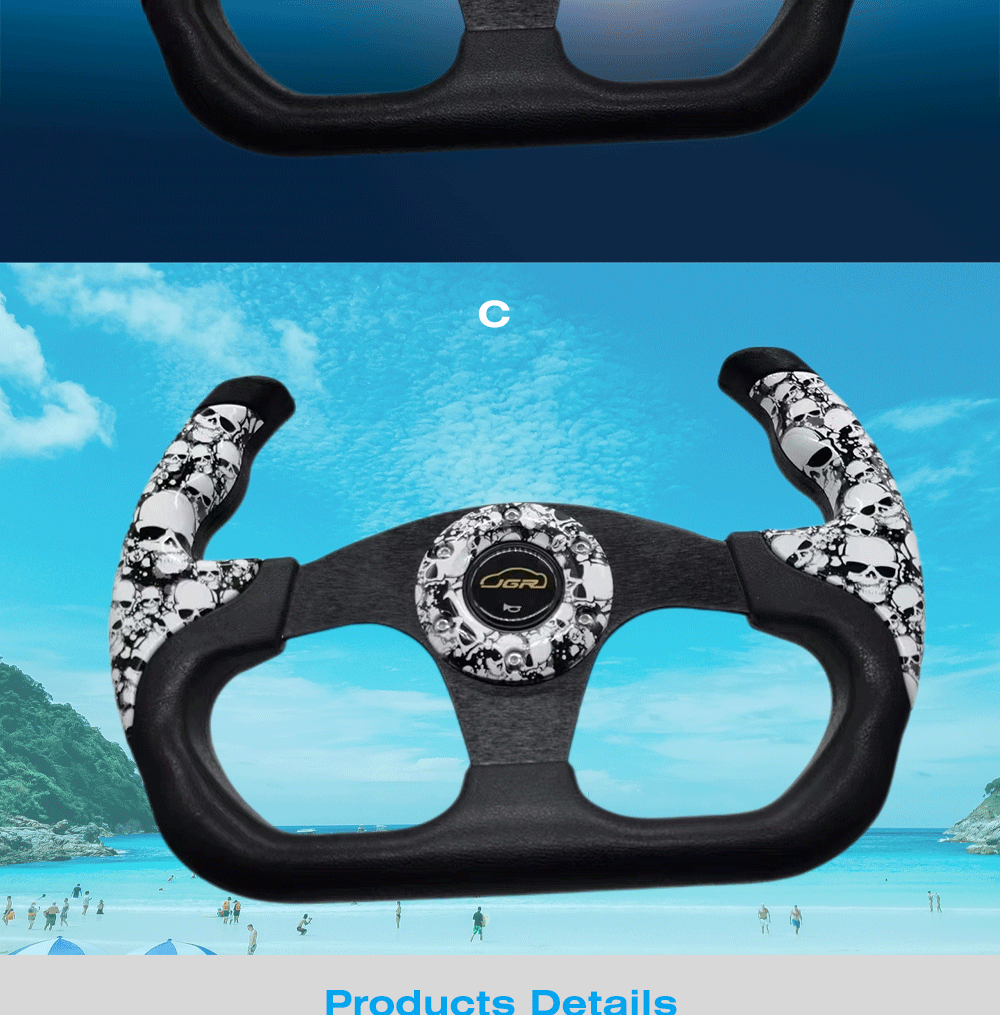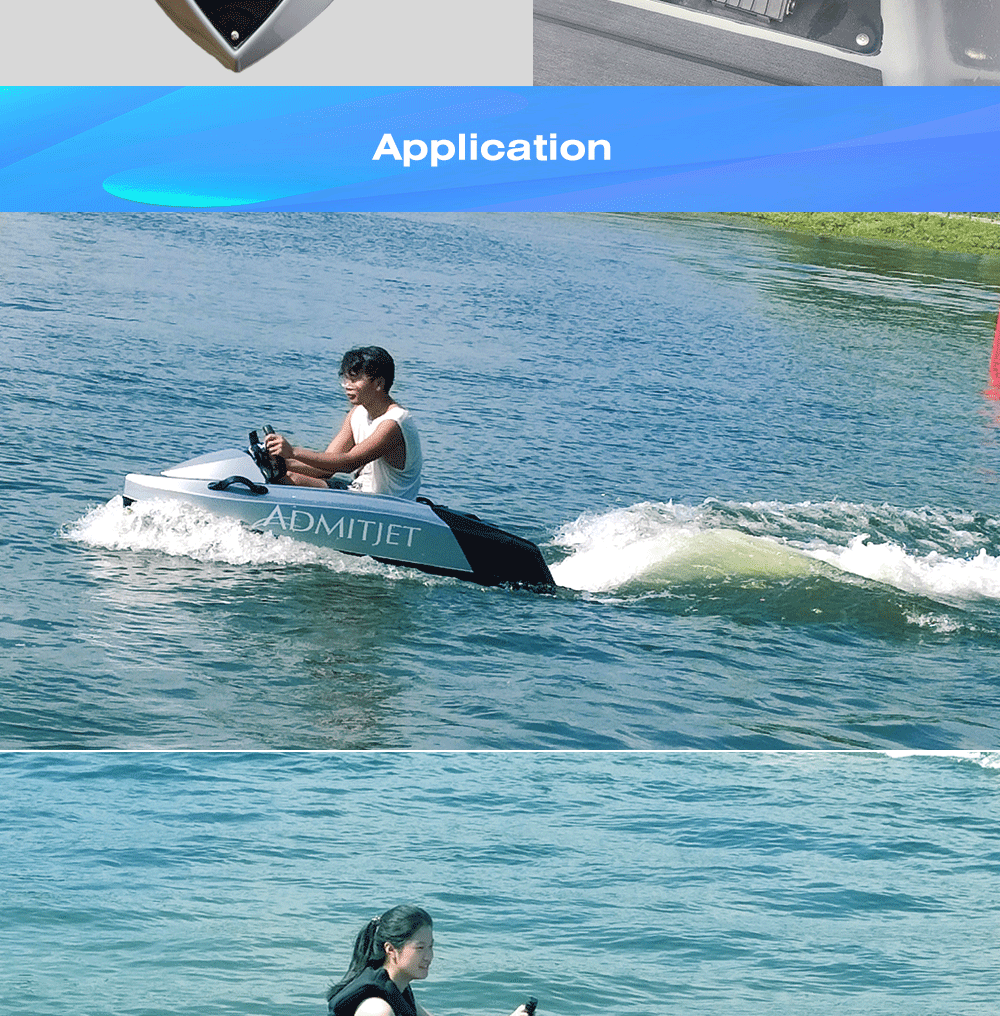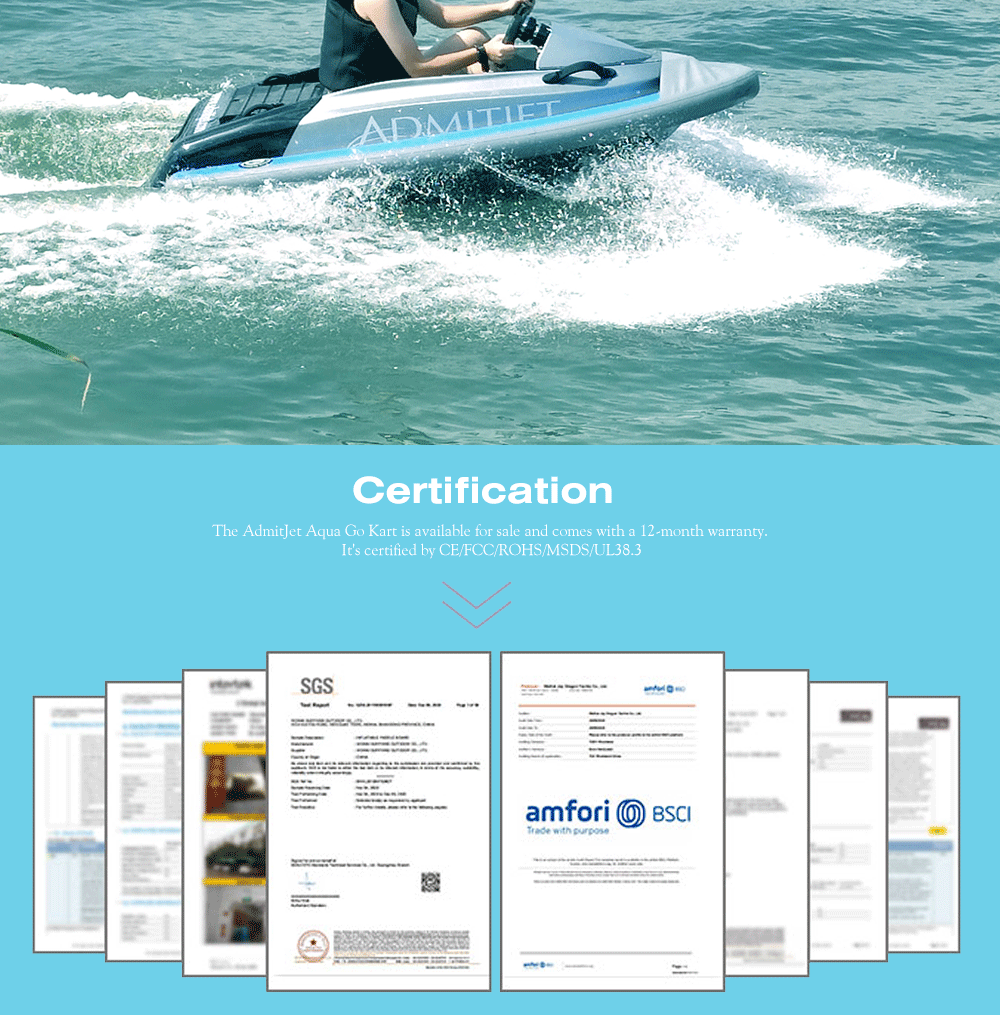 For easy and fast communication and best services, you can find me on